Sebastian Heating and Air Conditioning Contractors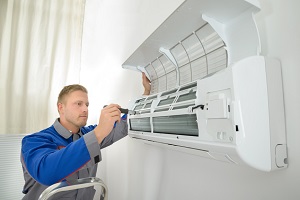 For the last six decades, Wallace Air Conditioning & Heating has proudly provided City of Sebastian residents with the highest quality HVAC services. Over this time frame, our HVAC contractors have developed an exceptional reputation. We have been successful for so long because we stick to one basic goal. In all of our heating and air conditioning services, our main objective is to maximize customer satisfaction by providing the highest quality services possible.
Call Wallace Air Conditioning & Heating today if you need to hire a professionally licensed HVAC contractor in Sebastian. We can assist you with any HVAC-related installation, repair, or replacement project. Our knowledgeable staff would be happy to answer any questions that you may have, and we would be excited to schedule your appointment today.
Air Conditioning Installations in Sebastian
At Wallace Air Conditioning & Heating, our Sebastian air conditioning contractors have the ability to assist you with all of your AC related needs. When you decide to install or replace an air conditioner, you should call us for help. Our air conditioning experts can provide you with the advice that you need to make the best choice for your property and family. Afterwards, our expert air conditioning installers will use the most precise methods to ensure that your system operates in the most effective, efficient, and reliable fashion.
Air Conditioning Maintenance and Tune-Ups in Sebastian
After we install your new air conditioner for you, our Sebastian AC technicians can always keep it in the best possible condition. Because your air conditioner is a complex machine with many moving parts, it is important to conduct routine maintenance. If you neglect routine air conditioning maintenance, your AC system will be less efficient and more susceptible to major damage.
At Wallace Air Conditioning & Heating, our Sebastian contractors can take all the hassle out of routine air conditioning maintenance. We provide routine inspection and tune-up services that will resolve all of your AC problems. Afterwards, your air conditioner will be as effective and efficient as possible.
Sebastian Heating Services
In addition to providing for all your AC needs, Wallace Air Conditioning & Heating proudly provides a wide range of high quality heating services. During the winter, it is important to have a fully functional and reliable heater within your home. Our heating contractors provide all the following services to Sebastian residents:
Heating Repairs
Heating Installations
Heating Tune-Ups
Furnace Repairs
Furnace Replacements
Heat Pump Repairs
Heat Pump Installations
And More
What Sebastian Homeowners Are Saying About Us
[rich_testimonials]
Recent Articles
3 Reasons To Get A Professional Heating Tune Up As We Move Into Fall

With summer finally winding down, and fall right around the corner at this point, most homeowners are busy getting their homes prepared for everything the coming season has in store, whether it's raking up the leaves around the yard, or getting out and enjoying the many different activities the fall season has to offer and…

Read More

Most Common Suntree Air Conditioning Repairs

One of the last things a Suntree homeowner wants to deal with is the need for air conditioning repairs but it certainly is an important one. If you want to keep your home comfortable all through the summer heat you have to ensure that you have functional cooling. The best way to be able to…

Read More

If you need to hire a professionally licensed heating and air conditioning contractor in Sebastian, call Wallace Air Conditioning & Heating today at 321-773-7969, or fill out our online request form.