Indoor Air Cleaners & Whole House Air Cleaning Systems in Indian Harbour Beach, FL, Florida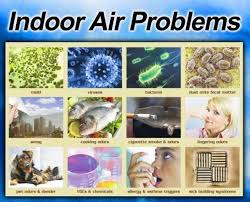 Whole-house air cleaners have been shown to minimize indoor air pollutants, such as dust, pet dander, pollen and chemicals, as well as reduce airborne viruses and bacteria. Wallace Air Conditioning & Heating technicians are prepared to:
Help you determine the right air cleaner for your Indian Harbour Beach, FL home.
Professionally install your new air cleaner
Maintain your new air cleaner to provide maximum efficiency
Air pollutants in your Indian Harbour Beach, FL home can lead to health problems such as allergies, asthma and other respiratory illnesses. With increased consumer awareness about the health issues associated with poor home indoor air quality, demand for home air filtration products in South Florida is strong, and continues to grow.
Indoor air pollutants can affect us all, especially those home bound with serious illnesses, very young children, the elderly and the 60 to 70 million people in North America who suffer from allergies, asthma and other respiratory ailments.
Why Indian Harbour Beach, FL Homeowners Should Hire Us for Their Air Cleaners
Our HVAC contractors will work with the homeowner to ensure the homeowner is kept up-to-date throughout the project. We want to ensure that homeowner is completely satisfied with the finished project. At Wallace Air Conditioning & Heating our Indian Harbour Beach, FL home air cleaner installers strive to provide homeowners with a service experience that is unmatched.
We offer 24/7 emergency air cleaner installation services to local homeowners in Indian Harbour Beach, FL. No matter your HVAC needs, our South Florida air cleaner installation experts have the experience and knowledge to guarantee quality service. Call us today for a FREE whole home air cleaner estimate!
Recent Articles
Keeping Up with your Heating System in Melbourne Beach

Your heating system should always provide warm air. When it stops producing warm and cozy air; it deserves to have professional heating repairs. Attention that's made to your heating system will keep it from needing replaced early. Many people turn their heat on without thinking about all of the repercussions. It's nice to always have…

Read More

3 AC Tips To Save Money On Your Summer Energy Bills

With the arrival of summer, the sun has finally arrived and that brings a number of different things with it. From family vacations, to backyard cookouts, trips to the beach and the pool, and just loads of fun in the sun, summer has it all, including the heat. As anyone who has lived here for…

Read More

If you are looking for Air Cleaners in Indian Harbour Beach, FL then please call 321-773-7696 or complete our online request form.