Air Conditioning & Humidity Control While You're Away From Home
---
---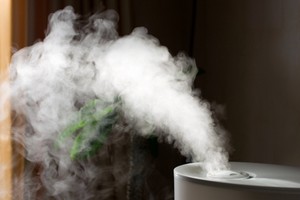 Whether your home is sitting empty during traveling or when you're trying to rent out the house, it's never a good idea to leave the air conditioner or heater off. In doing so, the home traps moisture.
There can be problems if a house is left shut up tightly for a time with no way for moisture to get dried out or escape.
One of the most common indoor humidity problems is with the popcorn ceiling texture and wall textures. The texture starts peeling away and falling off.
Fixing this problem can be quite expensive, especially if the drywall starts to warp, which is also very common. Have you ever noticed a bulging ceiling that has not water stains? That is due to high indoor humidity levels.
Prepping The Air Conditioning System
Leave the air conditioning and heating system on during periods where you will be gone to keep the air circulating in the home. You don't have to set the temperature as you normally would, but just enough for the unit to kick on a few times a day.
However, you'll also want to be sure the air conditioning and heating system has been tuned up before you leave. This preventative measure will ensure it functions properly when no one is there to monitor the equipment.
This will be an effective way to ensure the home does not suffer damage from high moisture levels. And of course, if you're just going on vacation for a couple of weeks or more, you don't want to come back to a hot, humid house.
It's always going to be worth it to pay a little for the energy cost than it would be to come home and find you have to foot the bill for moisture damage repairs!
Whole-Home Humidifiers
You can also install a humidity control device for the home. This would be an additional setup to prevent moisture buildup. No matter what, just ensure you find some way to keep the air circulating in your home!
Smart Programmable Thermostats – Easy Remote Control For Air Conditioning & Heating
One of the best ways you can control the air conditioner or heater while you're away is to ask your Wallace air conditioning company to install a smart thermostat.
There are many options on the market today that makes it possible to monitor and change the thermostat from any location with a wi-fi connection. You can use your laptop, tablet, or smart phone to monitor and control the HVAC unit in your Melbourne, FL home.
If you are looking for an Air Conditioning & Heating Company in the Melbourne, FL area, please call Wallace Air Conditioning & Heating at 321-773-7696 or fill out our online request form.