Professional Heating & Cooling in Cocoa Beach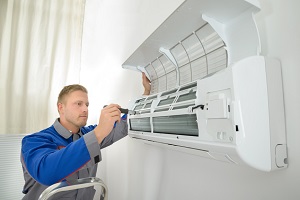 Whether you are home or business owner in Cocoa Beach, FL you know how hot the summers can get in the East Central part of Florida. So when your HVAC system breaks down, it is important that you hire a heating & cooling company that you can depend on for all your air conditioning needs. This is why for 50 years we have built a reputation as Brevard County's leading AC company. Our entire team of HVAC technicians at Wallace Air Conditioning & Heating, Inc provides comprehensive repair, installation, and maintenance for all residential and commercial properties in Cocoa Beach and the surrounding Florida area. We perform service on all types and brands of air conditioners, heaters, furnaces, boilers, and even heat pumps. There is no job too big or too small for our Cocoa Beach heating and cooling contractors.
Cocoa Beach Emergency HVAC Service
When it's August in Cocoa Beach, the last thing you want your air conditioner to do is go out on you. It's more than just an inconvenience. It's a safety issue for you and your family. So when you need fast repair service without any hassle, you can contact us. We are here for you 24 hours a day, 7 days a week, nights and weekends. We promptly arrive at your home with all equipment and supplies necessary to do the job as soon as we show up. We provide a quick inspection and estimate, and then go right to work to restore your HVAC quickly and properly. For Cocoa Beach Emergency HVAC services, we're here when you need us.
Heat Pump Repair in Cocoa Beach
Although there are several important components to your HVAC system, the heat pump is one of your most vital. When your heat pump goes out, so does the flow of cool or hot air through your system. We perform all Cocoa Beach heat pump repairs and maintenance for both commercial and residential models. We clean, repair, and replace all the parts and get your heat pump running once again. This includes cleaning or changing the filter, refilling the oil, repairing the blower, coil, and other vital parts.
Heating & Cooling Repairs
HVAC repair is a highly technical job that requires the experience of highly trained technicians who are state-certified and licensed to do work in Brevard County. So when you need repairs, then trust in the experts at Wallace Air Conditioning & Heating, Inc. We can repair all types of systems including standard heaters, air conditioners, furnaces, boilers, and heat pumps. We repair all brand names, and all models from complex central air system found in large businesses, to small units in homes. We provide fast service that is dependable and affordable.
Complete HVAC Installation
Getting ready to replace your current system with a brand new one? We can help. Modern AC systems are a great investment for any home or office. They are more efficient, come available with several new features, and are durable and long-lasting. We provide complete installation service from start to finish. We begin with a thorough inspection of your interior in order to determine the right system for you. We then install all components and have your new AC running in your home in no time at all. Contact Wallace Air Conditioning & Heating, Inc today to discover what options are available to you!
Recent Articles
Air Conditioning & Humidity Control While You're Away From Home

Whether your home is sitting empty during traveling or when you're trying to rent out the house, it's never a good idea to leave the air conditioner or heater off. In doing so, the home traps moisture. There can be problems if a house is left shut up tightly for a time with no way…

Read More

3 Reasons To Get A Professional Heating Tune Up As We Move Into Fall

With summer finally winding down, and fall right around the corner at this point, most homeowners are busy getting their homes prepared for everything the coming season has in store, whether it's raking up the leaves around the yard, or getting out and enjoying the many different activities the fall season has to offer and…

Read More

If you are looking for a Cocoa Beach air conditioning and heating Company then please call 321-773-7696 or complete our online request form.